Omar Bhatti is Michael Jackson's Secret Son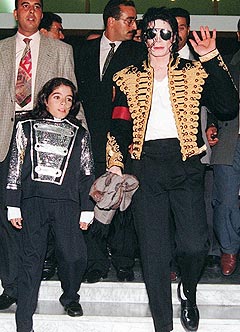 Omer Bhatti is Michael Jackson's secret son? Jermaine Jackson said, "If Omer's his son, he's his son.We won't deny it. We are going to give him the same love and care that we give Prince and Paris and Blanket. I can't clearly say if he is Michael's but I saw this kid around him." Omer Bhatti is a 25 years old Norwegian rapper and he was photographed sitting in the front row amongst Michael's siblings at the singer's memorial service on July 7.
The rumors are speculating that Bhatti is the product of a one-night stand between Jackson and a Norwegian woman named Pia Bhatti in the mid-'80s. The boy grew up in Norway but spent time at Neverland Ranch, where Michael Jackson should be buried. He also performed in a traveling Michael Jackson tribute act as a child and said to be seeking a DNA test to find out whether Jackson is in fact his father.
Jackson was introduced to Omer way back in 1996 he was highly impressed by the imitation dance move of then 12 years old Omer. Later on Jackson invited the whole family at Neverland ranch to stay with him. Omer's father Riz Bhatti worked as a chauffeur and Omer's mother Pia Bhatti became the caretaker of Blanket.
Moreover about where Michael Jackson should be buried, Katherine Jackson has strongly opposed a plan by son Jermaine to bury Michael at Neverland Ranch. She insisted that Michael felt no connection to Neverland after his molestation trial. "After the trial, he left and never returned. He always said the place brought back bad memories for him."